Team Seattle Guild's Pacific NW Karting Challenge 
We're back for 2021…Share our dream
Racing for children to benefit Seattle Children's Hospital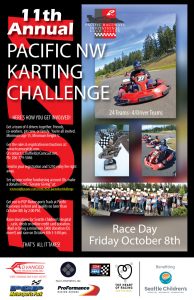 HELLO to all our former Kart Racing Participants…After what seems like a VERY LONG hiatus, we are ready to get back on the racetrack to support Children's Hospital and we want you to join us.
On Friday, October 8th, from 2 to 6 PM, the Team Seattle Guild will be presenting the  11th  Annual PNW Karting Challenge at PGP Motorsports Park located at Pacific Raceways in Kent, Washington.  The event fields 24 karting teams, each consisting of 4 drivers and as many supporters as possible.  The race is catered to the new drivers as well as experienced kart drivers.  There will be two levels of racing: PRO and PRO-AM to equal the "playing field" and each level will be competing for their own 1st, 2nd and 3rd place awards in racing.  There will also be awards for 1st, 2nd & 3rd place in fundraising.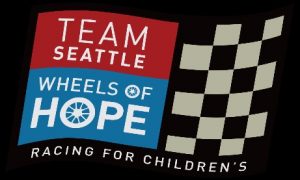 Donations for your team's efforts may either be directed to Children's Uncompensated Care or if your team is participating for a special interest guild, your donations will be directed to the guild's specific area of giving within the hospital. Funds are raised from business associates, friends and family through team members and supporters seeking pledges for their team, either through Mighty Cause Fundraising or checks submitted to the Team Seattle Guild and mailed  to the address listed below.  Setting up an online fundraising account is easy plus we -are here to provide help if needed. Each team can set up t
heir own online donation page through our event page on Mighty Cause: www.mightycause.com/event/2021pnwkartingchallenge, making it simple for drivers, guild members and supporters to reach out to friends and/or business acquaintances, near or far, letting them know of their team's participation in the race and how they can donate online.
Requirements:
If you have a Full-Face DOT or Snell helmet, or DOT approved motocross helmet with goggles, we ask that you bring it. We have helmets and some coveralls available for people to use at no extra cost, we just don't have 100 of every size available. No 3/4 or half helmets are permitted.
Teams are encouraged to have team shirts – these can simply be: matching brightly colored t-shirts; your company's, club's or guild's logo shirts; or custom printed t-shirts. Use your imagination and build on that team spirit!
Drivers must be a minimum of 15-years-old, and at least 5' tall, and may race for one team only.

Any Drivers under age 18 must have a parent or LEGAL guardian present at the track in order to sign the waiver. (Drivers may be required to show I.D. for proof of age.)

Pro/Am Teams:

Pro/Am teams are meant to encourage recreational karters, or non-karters, to participate.
Each team must have a minimum of four qualified drivers, and each driver must complete at least ten race laps.
Pro/Am teams are limited to a maximum of one "Pro" driver (i.e. the team may be made up of one Pro and three Amateurs or four Amateurs).

Pro Teams:

Pro teams may include two, three or four "Pro" drivers; the balance of the four required drivers to be made up of Amateurs as needed (i.e. 2 Pros and 2 Amateurs, 3 Pros and 1 Amateur, or 4 Pros)
Each team must have a minimum of four qualified drivers and each driver must complete at least ten race laps.
Team drivers can be business associates, spouses, teen-agers or friends.  The only restrictions are that they are at least 15 years old and 5 feet tall  AND  that before the race, we strongly encourage all drivers have some experience driving a kart or race car… but, we make that easy too with special pricing and help, from the staff at PGP Motorsports Park.  Give PGP a call at (253) 639-7223 (RACE) and let them know that you are participating in the Seattle Children's Karting Challenge on October 8th.
All drivers who did not compete in the 2019 year's race must qualify for the race by 2:00pm Friday, October 8th.
Kart Racing Challenge Schedule, Friday, October 8, 2021:   .
1:00-3:00pm     Registration and cash donation turn-in
2:30-3:00pm      Mandatory driver's meeting & kart assignments
3:00-5:00pm      Race
5:15-6:15pm      Driver awards & wrap up                                                                  1
$800 Minimum Pledge due no later than check-in on race day or mailed to the address below no later than October 4, 2021 to be counted in Race Day overall fundraising totals. All teams are encouraged to set up their own online team fundraising page at www.mightycause.com/event/2021pnwkartingchallenge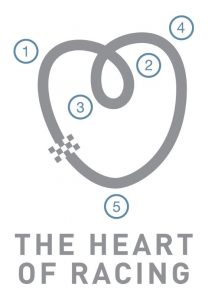 Electronic versions of the PNW Karting Challenge Team Registration form, PNW Karting Challenge Rules, Mighty Cause Online Team page directions and Sponsorship Information are below.
Registration forms and registration checks (made out to Team Seattle Guild) should be mailed to:
PNW Karting Challenge C/O Elna Duffield
11239 Champagne Pt. Rd. N.E. / Kirkland, WA 98034
For Credit Card, Venmo, Zelle payments or questions, please contact:
Elna Duffield at L.Duffield@comcast.net  or Cell: 206-779-5046
We have 24 team spots available and want to fill every kart with racers….if you know of anyone that would be interested in forming a team or becoming a sponsor,  please forward on this message…thank you. 
For planning purposes, please send us a quick email if you plan to form a team for this year's Karting Challenge.
Sincerely,
Elna & Larry Duffield,                                                               Don Kitch,
PNW Karting Challenge Chairmen                                         President
Team Seattle Guild, Seattle Children's Hospital                  Team Seattle Guild, Seattle Children's Hospital
Cells: (206) 779-5046/Elna or (206 ) 412-6643/Larry      Cell: (206) 369-0461
How to build a Team Page on an Event Page
2021 Rules – Karting Challenge
2021 Registration Karting Challenge
2021 Sponsorship Levels PNWKartingChallenge
---
---
         TEAM SEATTLE Guild "The HEART of RACING"
What is Seattle Children's Hospital?
Seattle Children's was formed in 1907 to serve the children of the Pacific Northwest region "regardless of their family's ability to pay," that mission remains their central focus today. It is the pediatric and adolescent referral center for Washington, Alaska, Montana and Idaho. In the last fiscal year, Children's provided over 185 million dollars in uncompensated care for families from the Northwest whose children need specialized treatment and care. Seattle Children's was ranked by U.S. News and World Report as the 5th best children's hospital in the nation with the Seattle Children's Research Center ranked 3rd nationwide.
What is the Pacific Northwest Karting Challenge?
The Karting Challenge is a 2-hour team race, held at PGP Motorsports Track at Pacific Raceways in Kent, Wash., to raise money for Seattle Children's. It consists of a maximum of 24 teams each with 4 qualified drivers. The teams are selected on a "first to register and send in their registration fee" basis. Team spots will not be held without payment of the $250 registration fee. Each team is expected to complete 60-70 laps in 2 hours on the 15-turn Pacific Grand Prix circuit and raise a minimum of $800 for Seattle Children's. This year's Karting Challenge will be held on Friday, October 8, 2021.
What are the Team Categories? To encourage participation by both seasoned and new / or, less experienced drivers, we will split the teams into two categories: more experienced Pro and less experienced Pro/Am. All the teams will race at the same time, but at the finish, we will award trophies to the top 3 Pro teams as well as the top 3 Pro/Am teams for racing and the overall top three teams in fundraising. See the Fundraising and Race Rules for more information.
What is a guild for Seattle Children's? A guild is a group of individuals that have banded together to raise funds that are directed to the Children's Hospital. It is a Non-Profit, 501(c)3 organization and donations made to their fundraising events are generally considered tax deductible. The Pacific NW Karting Challenge is sanctioned by the Team Seattle Guild "The Heart of Racing" whose main focus is to raise funds to benefit pediatric cardiac care. Participating teams will have the option of designating their individually raised funds to: Team Seattle Guild's area of special interest; Uncompensated Care; or if your team is representing another sanctioned Seattle Children's guild, to your area of special interest.